One Year Later, Remembering Hurricane Sandy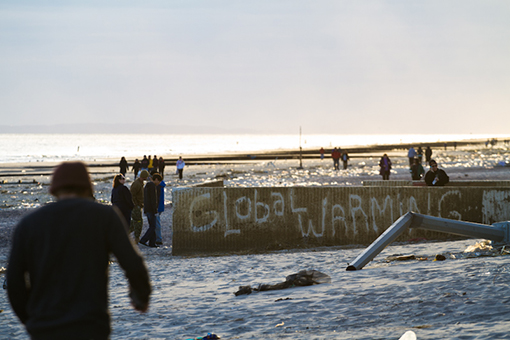 One year ago today, Hurricane Sandy blasted the East Coast, leaving a trail of devastation in its wake. On this anniversary, we look back at our feature "Sandy From Afar' in The Usual x Patagonia issue 4.
Text by Malcolm Johnson, images by Zak Bush.
I was at a far remove when Sandy hit. A very far remove, in fact, separated from the storm surge by 50 degrees of longitude, watching it happen on the Weather Channel from my home in coastal British Columbia. I'm one of those people whose relationship with New York City is almost entirely second hand, shaped by books and magazine articles and stories from friends who'd moved there and would go shred Ditch Plains and Rockaway on their free days.
The place I'm writing this from has a population of 2,000, a lot of tall cedar trees and not a single top light, so New York, most of the time, seems like it exists in a separate world. In a few senses, it's the antipode of where I live, different in almost every way. And New York has such a continual presence in contemporary culture that, for myself and many who don't live there, it's easy to forget that its boroughs and beaches aren't just screen sets—they're works of non-fiction, real and complex places built on the small loves and details of everyday lives. As a kid, my impressions of New York were mostly the Rangers and Saturday Night Live and Biggie and Jay. Later, as my tastes shifted, it was the Ramones and Live at the Apollo and Michael Chabon's cityscapes in The Amazing Adventures of Kavalier & Klay. For me, the city and its shorelines existed mostly in the realm of pop and myth.
It was surfing, though, that started to make New York more real—I'd pour over photo features in the surf magazines, click through galleries on Surfline, watch pretty much every clip posted on the New York surf blogs. I started seeing unexpected parallels between my own surfing life on the forested shores of Vancouver Island and the surfing life on the fringes of the great towering city—I knew what it was like to mission two hours for blown-out waves, or to suffer through the long summer doldrums, or to feel the special agony of freezing water flushing into a hood and down into the small of the back. And I knew the finer things as well—shining autumn days with warm winds and rolling groundswell, or pulling into heaving, sand-brown barrels in the wan light of winter.
A few days before Sandy, a 7.7-earthquake struck off the coast of British Columbia, and not long after the tsunami sirens were sounding in our town. Not much happened, thank the Gods, but everyone was on edge as the aftershocks rumbled, wondering if the rest of the Cascadia fault was going to let go. The thought of water rushing over the beaches and turning houses to matchsticks, in other words, was pretty real. So as the reports from the hurricane came in that night, I was well aware of the tension and fear that the beach communities were feeling. Most of us who live by (and for) the ocean can't imagine living anywhere else—but there's always that sober knowledge that its waters can turn on us in an instant, and that we're helpless before them.
In the next few days, it was hard to get any news of what had actually happened—there was lots on the news about Manhattan and the subways, but not much about the beaches. A Skype call with my friend Zak Bush, who'd weathered the storm in Williamsburg but had been going out to the Rockaways to help out, made it clear that things were pretty bad: "My first reaction," he said, "was shock."
After we talked, Zak sent me some of his shots—splintered boardwalks and trashed cars and totaled beachfront houses. Those shots were heartbreaking to look at, but I knew I was seeing New York in a truer way—no longer a place of myth and idealized surf media, but a place just like my own, filled with real people and real lives, all of us holding on at the edge of an indescribably powerful sea.
- Malcolm Johnson