Nicknamed "Happy Gilmore" for a reason, no one looks more psyched during a contest than 5-time ASP world champion surfer Stephanie Gilmore. Her creativity on a wave, which she describes as "drawing with her feet," is matched only by her passion for competition. This spirit is captured in Stephanie in the Water , a documentary about her life, her enthusiasm for the sport, and the random physical attack she endured outside her home in Australia just after winning her 4th ASP trophy. Ever the fighter, she comes back stronger and more resolute. She shares that journey with us here.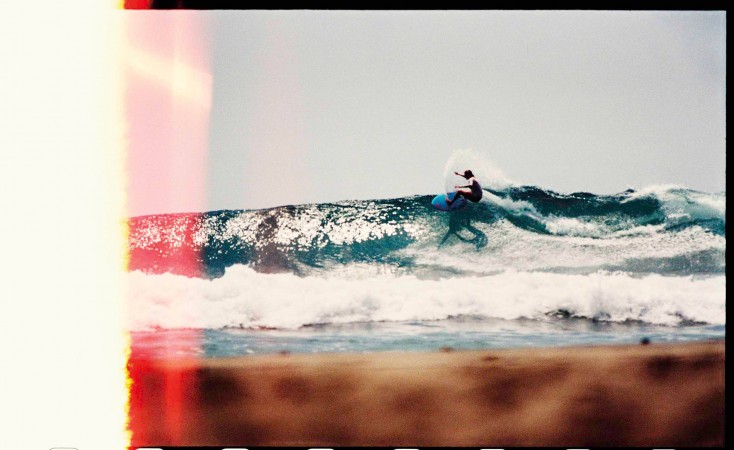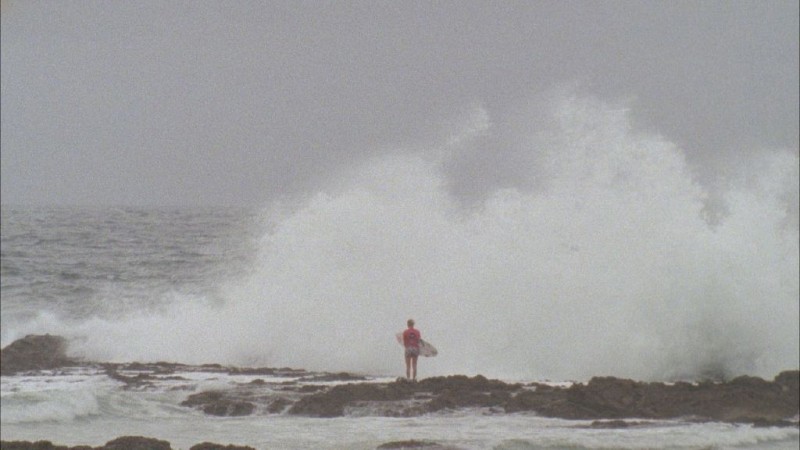 Stephanie in the Water is not only a story about your life and career, but it's also inspiring to anyone passionate about what they do. Did you and director Ava Warbrick have a set idea of what you wanted to depict when you started the project?
Ava grew up around surfing, but had been detached from it for like 10 years living in New
York City. I was at a point in my career where I'd already won a few world titles, and I was like "Okay, I want to explore the rest of the world." So Ava and I started filming adventures in different parts of the world. She was filming me running around Paris and New York, doing things that took me out of my usual world. As time went on, my actual story evolved and got better, and Ava started to see a deeper transformation in myself. Everyone tries to figure themselves out at some point, so there was this story inside of a story. There was drama, there were world titles, there was a 'hero moment.' And I was able to let the camera in because I was so trustworthy of Ava.
The drama comes when you were attacked outside of your home in 2010. You're still very emotional talking about it in the film. Now that you have some distance, do you have a different perspective on what happened to you?
The year I did that interview it was really fresh. It was 2011, probably the most important year of my life. I learned so much about myself, about the way I compete, about the world. It was a real defining moment and time in my life. I wanted to figure things out. For some reason I was able to do that early, even if I was emotional about it. When I look back to it, I surprise myself how quickly I was able to heal.
Other people have the luxury of healing without being in the public eye, but you were in it the whole time. Was that challenging?
When you go and see a counselor or a psychologist, what you do is you talk about it with them. When you're in the media, those are the hot questions. "Tell us about the attack. What happened?" I felt like I was explaining it and talking about it on a pretty regular basis, it helped me to understand it better. You're like "Yeah it happened. But I'm still here, and I can talk about it. And let's just move on."
Your sister plays a prominent role in your career as your manager, and must have been a great support at the time. Does that help keep you grounded?
Definitely. I have an incredible family. A lot of the values that we've grown up with have been from our parents, who are super chill. My dad, he still surfs more than anyone that I know. Our mom's a school teacher, and she's super relaxed. So yeah, it's great to have my sister on tour, it makes traveling a lot of fun.
A lot of people on the road have their significant other with them, and your sister has said she was there for you in that way. But you must meet so many hot dudes on tour?
Yeah! Traveling is hard when it's nonstop on the road. When you're competing, you really want to focus on yourself, and as I said before, surfing can be quite selfish, so you have to sacrifice things. I like to travel and be independent, and not have to worry about any attachments anywhere else around the world. I like to be present where I am.
You've said something to the effect of when you take off on a wave, you're drawing with your feet. In a way do you feel like an artist when you're surfing?
Totally. Surfing is one of the most creative outlets for any human being. It's like dancing. It's a performing art. The fact that we're in the ocean, we're riding waves, you have traveled so far out to sea, and then we share a moment with that wave before it crashes and disappears into nothing—the last dying moment of that wave's life. It's quite spiritual and a deeper kind of thing. It reminds me of how you've said when you first started getting in the water on a boogie board—you wanted to be close to shore so everyone on the beach could see you. It's almost like you're a performance artist. I still love that. That's one of my favorite parts about being a competitor on the ASP world tour. I love to actually surf and have the crowd on the beach, and everyone cheering for you or booing for you, whatever it is. It magnifies the whole competitive experience. And when you win, getting brought out on the beach through a crowd of people, you feel like a rock star for a couple of minutes.
You look so happy during contests. Do you actually love competing?
Definitely. From such a young age I loved being at events, the atmosphere. I get nervous, and I have to buckle down and focus on things, and strategize and figure out ways to win the events; but at the same time, I enjoy it. There are a lot of people who get too serious. I owe a lot of my success to the fact that I'm just having fun. You go on trips with a lot of girls on your team, but you've said that you don't want to get too close to them because you know that you're going to compete with them. I think that's [the same] for any kind of athlete. One the women's tour there are only 17 of us there, so we're all pretty close friends. We all know each other really well, and we're all traveling from the same destinations with our boards meeting up around the world. At the end of the day, it's an incredible lifestyle that we get to experience together. But yeah, we're not confiding in each other. There's definitely a line you have to draw to really be able to find that assertiveness when you're competing against someone.
What about with Carissa Moore, who took the 2011 ASP title. How is it outside the water with the two of you?
It's a real rivalry, and it's healthy. Both of us have such a respect for each other, and I think Carissa is the most talented female surfer on tour at the moment. But yeah, I don't exactly go and hang out with her.
When you're winning all these contests are you doing it for anyone other than yourself? Are you representing women? Or your country?
Surfing can be selfish because it's a very individual sport. At the start of my career there wasn't really much else to it. It still is that way, but at the same time now, I definitely have a more of a role model position. Women's surfing is in such a great place right now, and all of us are representing women's surfing, but I feel like we're also representing female athletes around the world, no matter what sport you come from. That's always playing in my mind—doing it right and doing it classy and representing everyone the best way I can, including my own brand.
Have you faced more challenges as a woman in the industry trying to get recognized? Or is gender less of an issue these days than it used to be?
Surfing was very male dominated for so long. Now it's come to a great place and we have a lot of respect from the guys for what we do. There's definitely parts here and there that we're still fighting to get our space, but at the same time, we're doing such a good job at what we do, so we're heading in the right direction.
When we ask female athletes about their position as a female athlete, it's like, "Can we not even address the fact that I'm a female, just that I'm a great athlete?" It's this fine line of raising awareness around it, or just letting it progress on its own.
Female surfers are trying to do exactly that. We're trying to let the surfing do the talking, more than anything—that is going to gain us that respect or that extra media attention, if we really knuckle down and work hard as athletes. To evolve as great surfers will do more talking than anything else.
In the film, Jessi Miley-Dyer, who was pro at the time, and now retired, talked about how she was going to school as a backup plan to her surf career. Is having a backup plan something that has crossed your mind?
I don't really think about it, and I never really did. As soon as I finished high school, I was ready to go on tour. I was so confident in my abilities to be successful on the surfing world tour that I didn't think twice. I'm sure if something happened, and I had to change, then I'd figure out a way to adjust. But it is true. A lot of surfers I've met have really struggled because they've been on tour without sponsors. They spend a lot of money traveling, trying to do events, not doing that great, and then getting a little lost because they come to the end of their career and don't really have qualifications or real work experience. But in my eyes, traveling the world is the best working experience. It opens your mind, and these [are the kind of people] who can adjust and fit into any situation quite easily.
You've been working with Roxy since 2013, how has that experience been?
It's been great. Obviously I started with Quiksilver Women's, and then I moved towards Roxy. In my eyes, I've always looked up to Roxy, the way they sort of market women's surfing has always been the most iconic and authentic to female surfing. They just make it look fun. I think almost every young girl is obsessed with Roxy at some point in their life. So yeah, it's been fun to come on board with them and surf with Monyca, Kelia, Bruna, and Lisa Anderson. I get to hang out with Lisa. She's one of my hugest inspirations.
Do you have a favorite place to surf?
There are so many favorite places. I really love Australia because it's where I live. We have world-class waves, and the water's clear there. Then I'd have to say Indonesia, West Sumatra, the Mentawais. The waves out there are mind-blowingly perfect, and warm. Then Mainland Mexico. I love all those right hand point breaks.
You're from Australia. Do you fit into the stereotype of Aussies being pretty wild?
Party animals? They love beer, that's for sure. I'm proud to be Australian. Growing up in Australia has given myself and my sisters such a healthy upbringing. Our countryside, our beaches are absolutely stunning, our landscape is incredible, and to have the waves that we have, the weather that we have. We're really quite isolated from the rest of the world, but we're spoiled with opportunities to get into surfing, to lead a really active, healthy lifestyle. Although we live in probably one of the best countries in the world, everyone makes enough money to pack their bags and start traveling. I love that about Australians—they want to get out and see the world. As soon as you say you're Australian, no matter where you are people accept you, and they're curious about Australia because they've never been, it's so far away. "Do you guys ride around on kangaroos? Are there koalas hanging out in the streets and stuff?" They ask.
So that's not all true?
I mean it kind of is. But it's probably a little more like America than most people think.
You've spent a lot of time in Montauk and were there for the Roxy Classic last year. What do you love about the area?
It's such a cool little community, and everyone knows each other, which reminds me of my hometown called Murwillumbah, or Kingscliff. I love any little beach surf town because there's good vibes there. What's surprising to me was how many girls get into surfing [in Montauk]. The cold water would be the biggest deterrent, but it doesn't seem to phase them. It's so cool to see such a big group of girls laughing together, and there's a lot of moms teaching their daughters how to surf.
Do you have any advice for young water women that want to follow in your footsteps?
My best advice would be surf as much as you can. If you can get someone to film you so you can watch yourself, that's going to improve your surfing out of sight. Never underestimate yourself. And have fun.