Few people can say they've traveled the globe for two years photographing amazing butts. There are also few people that can say they've landed the cover of Sports Illustrated Swimsuit Edition, three times. Few people, of course, are Raphael Mazzucco, one of the world's most celebrated fashion photographers and one of the area's most creative residents. In between adventures—which include a Surf Lodge exhibition and a show in London of resin and paint-layered collages, aptly titled "Montauk"—we tracked Mazzucco down at home to ask a few questions.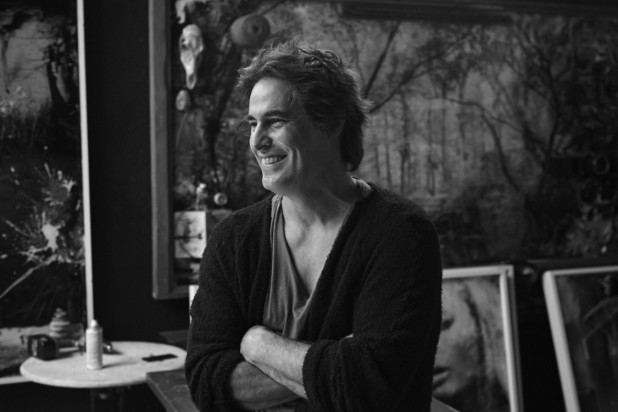 F
Where are you from?
Vancouver, Canada.
What drew you to Montauk initially?
I lived in New York City for 12 years. I came out [to Montauk] for a holiday. We were going to rent this house and we ended up buying it the day we came. It wasn't planned, I never thought I'd live in Montauk. But now, it's home. The house here plays a huge role for me. I love the idea of being in the house and working and going outside and hosing prints down and starting over. I'm working out of the house I love.
So your house is also your art studio. Tell us about what you're working on here.
We're doing tabletops (points) and this one's with a gannet bird, it's like seven inches thick. Everything around the house we use in the collages and we'll put different elements of nature in the pieces. I think we used 75 gallons of resin for this. I started working with resin 15 years ago, and it came very natural. I wanted to work with it so I could make the photography look more like sculpture. It's also cool that we're in a surf town and there's that connection with the resin and surfboards. It's a subconscious thing.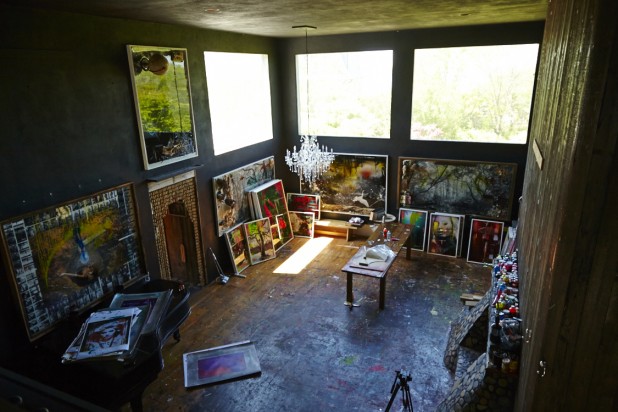 Do you get in the ocean much?
I love to go swimming. When I first moved here, I'd go swimming in the bay, but I learned later there were sharks in there. I'd be swimming around and all the locals are like, "What is he on?"
You've been here for over a decade now, how do you find the changes in Montauk?
Even back in 2008, there were like 3,000 people living here. I actually like it more now. I like how busy it is. There's a lot of energy. Historically, Montauk has had an amazing artist community. It's the nature of the place. If you're living in Montauk, the way the light is always changing is super incredible. You go from one sunset to the other.
 
Who are some artists you're influenced by?
There's so many artists that I really love. I love Francis Bacon. I love the photographer Irving Penn. I would say my favorite artist is Robert Rauschenberg. I love how raw and simple his work is. Miró and Picasso, of course.
You've photographed so many beautiful women in your life. What makes a woman beautiful?
It's absolutely [what's on] the inside. The spirit. People often ask me who the most beautiful girl I've photographed is. I could never answer that, because everyone's got a different spirit. They give different things.
You've also traveled to some amazing locations for photo shoots. What's the most memorable location you've been to?
It's the same answer as with the girls. They're always so different. To go from Vietnam to Iceland, to Iceland to Africa, from Africa to China, it provides such a different sort of inspiration. But I think it's about where you are in life, what you're doing and what inspires you. All these wonderful places give inspiration.
Can you talk about how you approach photography that you do for a client versus the work that you're doing for yourself?
I think somebody gets hired because of what the client loves about their work. The shooting is always preordained. The client knows exactly what I'm going to deliver, and they know what they want. So it's about being able to work really well together with people. With the art, it's you, yourself, you just go for it. Which I also love.
Your project Culo, a series of photographs and collages of women's butts from around the world, seemed like a coupling of this commercial and artistic work. How did that come together?
Actually, will.i.am did a video for Jimmy Iovine in Brazil, and he came back with all these shots that were just from the waist down. It was really Jimmy's idea to do a coffee table book. We worked on a butt book for, like, two years.
So two years circling the world looking for great butts.
Yeah, circling the globe, taking photos of butts. It was a really fun project. Incorporating the art with the book was super enjoyable. We shot in Vietnam, we went to Milan, Brazil, Iceland, all over the place. I thought I knew what a great butt was. But after two years, I really learned a lot! They really vary so much, you know? When somebody takes their clothes off you don't expect stuff like that.
Were any butts shot in Montauk?
Actually there are a lot of butts shot here in Montauk. I would just spontaneously do it, whenever there was a great girl around. I would just bring her to nature and shoot. Some proceeds of Culo went to a fund that helps Afghani and Iraqi vets.
Do you have any other causes you champion?
I just did a really great charity with Samuel Eto, the soccer player. And I did a lot with One by One with Brad Pitt and Angelina Jolie's charity. Being able to give is a blessing. So whenever I can, I love to be involved.
What do you think of the current state of fashion photography, and about the industry using Instagram more often to get their work out?
I'm a big fan of all that stuff. For a long time I wasn't a believer in it, but, it's fun. It's really great that people can see things so quickly. I've got to learn those hashtags.
The industry must be quite different today than when you got started. What would you tell an aspiring photographer, or even your son, about starting now?
Whatever you do in life, you just have to really love and have a passion for. Then everything else will happen in a natural way. I believe in doing things with what you love. It doesn't matter how difficult it is, just hang in there and be blessed that you love something.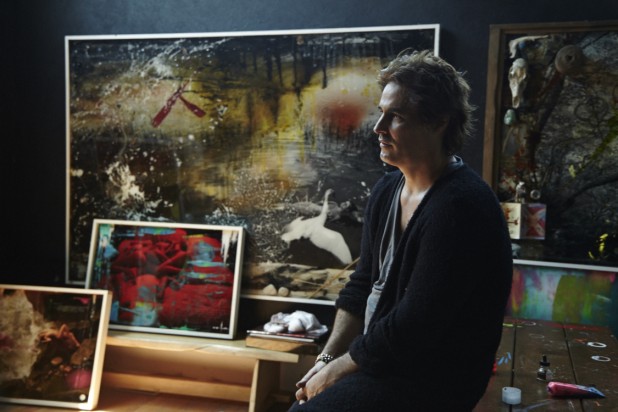 Photography by Nick Hudson